Dr. Joshua S. Rodefer
Assistant Professor of Psychology and Neuroscience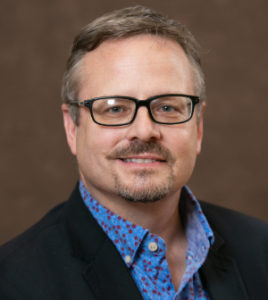 I am a recent transplant to Mercer (2019) and have had the pleasure of living in some great places around the country (Florida, Iowa, Massachusetts, Minnesota, North Carolina, Ohio, Pennsylvania, West Virginia, and Georgia) over the course of my education and career. My research activities focus on problems related to psychopharmacology, addiction, and other neuropsychiatric disorders (such as schizophrenia).
Education
Postdoctoral Fellow, Harvard Medical School
Postdoctoral Fellow, University of North Carolina at Chapel Hill
Ph.D., Cognitive and Biological Psychology, University of Minnesota
B.S., Biopsychology, Denison University
Specialty
Cognitive and biological psychology (behavioral pharmacology).
Professional Interests
My interest in understanding the relationship between brain and behavior has driven my scientific curiosity for many years. My program of research strives to understand how environmental and pharmacological variables influence cognition, decision-making, executive function, and risk-taking related to neuropsychiatric disorders (e.g., drug abuse, schizophrenia). We strive to use a translational approach with preclinical studies that aim to have applicability to the human condition. My current teaching is primarily directed towards neuroscience- and methodological-related coursework (statistics, experimental psychology, learning, biopsychology, and biological foundations of behavior and lab). I also have strong professional interests in the educational mission of involving undergraduate students in research.
Other interests
I enjoy the Macon music and arts scene, cooking (especially barbecue in summer and chili in autumn when the weather turns cool), and spending time with my family and the various animals we keep (four pets, one horse).
Publications
LeCroy, V. R.* & Rodefer, J. S. (2019). The influence of job candidate LGBT associations on hiring decisions. North American Journal of Psychology, 21(2), 373-386.
Breneiser, J. E., Rodefer, J. S., & Tost, J. R. (2018). Utilizing tutorial videos to enhance the learning of statistics in an online undergraduate psychology course. North American Journal of Psychology, 20(3), 715-730.
Garrett, B., Hough, G. (with Kahn, M. C., & Rodefer, J. S.) (2017). Brain & behavior: An introduction to behavioral neuroscience (5th ed.). Thousand Oaks, CA: SAGE Publications.
Rodefer, J. S., Saland, S. K.*, & Eckrich, S. E.* (2012). Selective phosphodiesterase inhibitors improve performance on the ED/ID cognitive task in rats. Neuropharmacology, 62(3), 1182-1190.
Wallace, T. L., Callahan, P. M., Tehim, A., Bertrand, D., Tombaugh, G., Wang, S., Xie, W., Rowe, W. B., Ong, V., Graham, E., Terry, A. V., Jr., Rodefer, J. S., Herbert, B., Murray, M., Porter, R., Santarelli, L., & Lowe, D. A. (2011). RG3487, a novel nicotinic α7 receptor partial agonist, improves cognition and sensorimotor gating in rodents. Journal of Pharmacology & Experimental Therapeutics, 336(1), 242-253.
Rodefer, J. S., Nguyen, T. N.*, Karlson, J-J., & Arnt, J. (2008). Reversal of subchronic PCP-induced deficits in attentional set shifting in rats by sertindole and a 5-HT6 receptor antagonist: Comparison among antipsychotics. Neuropsychopharmacology, 33(11), 2657-2666.
Ng, C-W*, Noblejas, M. I.*, Rodefer, J. S., Smith, C. S.*, & Poremba, A. (2007). Double dissociation of attentional resources: Prefrontal versus cingulated cortices. Journal of Neuroscience, 27(45), 12123-12131.
Rodefer, J. S., Murphy, E. R.,* & Baxter, M. G. (2005). PDE10A inhibition reverses subchronic PCP-induced deficits in attentional set-shifting in rats. European Journal of Neuroscience, 21(4), 1070-1076
Chen, K. C.,* Baxter, M. G., & Rodefer, J. S. (2004). Central blockade of muscarinic cholinergic receptors disrupts affective and attentional set-shifting. European Journal of Neuroscience, 20(4), 1081-1088.
* Indicates student author
Contact Dr. Joshua S. Rodefer
---
(478) 301-2364
rodefer_js@mercer.edu
Office: Willet Science Center 130