Find what works for you
Mercer University's ROTC program offers a number of different options, depending on your needs and goals. Students attending Middle Georgia State University and Wesleyan College also can participate with our ROTC department as part of a cross enrollment agreement.
Four-year program
The ROTC four-year program is divided into the Basic Course, which encompasses the freshmen and sophomore years, and the Advanced Course, which encompass the junior and senior years.
Two-year program
The two-year ROTC program is available for students who make the decision to join ROTC later, and this program requires attendance at a summer Leaders Training Course at Fort Knox, Kentucky, between the sophomore and junior years.
For commissioning credit
For students enrolled in the military science program for commissioning credit, the Basic Course or the Leaders Training Course are prerequisites for the Advanced Courses. Military science courses include weekly leadership labs, physical training, and one to three multi-day field training exercises each semester. Students may elect to compete for two- and three-year United States Army scholarships.
Commission Path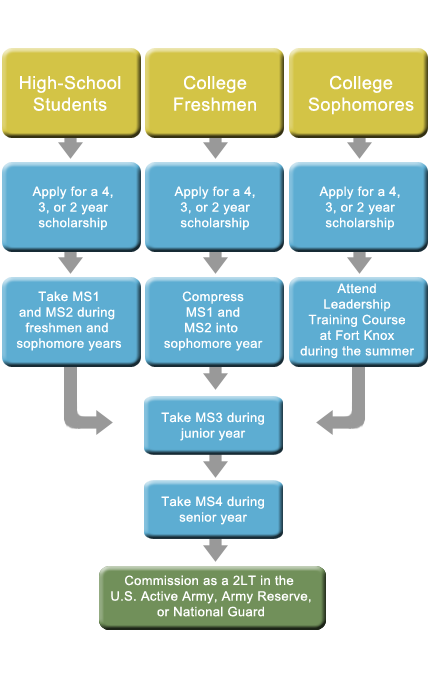 Our program's history
Mercer has been producing military leaders since 1833, nearly a century before the establishment of Army ROTC. Most noteworthy among these men are Maj. Gen. Blanton Winship, the Army's first judge advocate general, and Rear Adm. Richard E. Hawes.
Although ROTC program was established in 1916, it wasn't until the passage of the National Security Act in 1947 that a full-time ROTC program was established at Mercer. The program quickly took hold on campus and numbered more than 100 cadets for most of the 1950s and early 1960s. Since then, the Mercer ROTC program has produced a number of noteworthy officers, many of whom left the military and were extremely successful in civilian careers.
Notable alumni
Nathan Deal, Georgia governor, 2011-2019
Lt. Gen. (ret) Claude M. Kicklighter, U.S. Army, Commanding General, Pacific; Assistant Secretary, Department of Veterans Affairs, 2001-2005; Inspector General, Department of Defense, 2007-2008
Brig. Gen. (ret) Ross W. "Bill" Crossley, U.S. Army, Former Chief of Staff V Corps, Frankfurt, Germany
Lt. Gen. (ret) Perry Wiggins, Commanding General, U.S. Army North (Fifth Army)
Brig. Gen. (ret) George J. Walker, Former Director of Intelligence/J2 of Forces Command
Col. (ret) Steven M. Boylan, Former Aid to GEN David Petraeus
Tony E. Calloway, Vice President, Primerica Financial Services
Brig. Gen Michael L. Howard, Deputy Commanding General of Operations, 10th Mountain Division
Robert Hurt, Professional Staff Member in the U.S. House of Representatives and U.S. Senate
Brig. Gen. William T. Thielemann, Georgia Army National Guard, Commander, 48th Infantry Brigade
Brig. Gen. (ret.) Charles Stewart Rodeheaver, U.S. Army-Deputy Commanding General