Department

Degree

B.A.

Location

Macon
Investigate your world
Mercer University's Journalism major gives you the avenue to investigate our world and document your findings with the stroke of a pen, camera lens, voice recorder, and more. You will dive into the world of journalism and discover the importance of gathering, interpreting, and disseminating truth. You will bring truth to power, and by doing so, you will impact the community in which you live. Your passionate professors will teach you journalism ethics and skills that are needed to create a professional, respectable journalism portfolio. Your work, no matter the topic, helps keep America's democratic system in place. Upon completion of the degree, you'll be prepared to:
Think and write critically
Expose wrongs by creating truthful journalism pieces
Implement rigorous research practices while uncovering truth
Communicate effectively and efficiently
Seek a career in diverse fields
Designed for motivated students
The Journalism major unapologetically demands passion and relentless pursuit from its students. If you are curious, determined, and ready to shine a light on truth, we want you to be a part of the Journalism program. You will be among 100 of Mercer's best and brightest students, as we only allow 100 students into the program at a time to ensure quality education. In addition to excellent curriculum and hands-on opportunities, you will form lifelong relationships with classmates and professors, participate in real-world experiences, and graduate with a sharpened skillset that will set you apart from your competition.
Learn more about our Journalism major

Center for Collaborative Journalism
Work side-by-side with media professionals in our Center for Collaborative Journalism, a unique community media collaborative combining Mercer's liberal arts-based Journalism and Media Studies programs with the professional expertise of journalists from local media outlets.

Outside the Classroom
Beyond our classroom walls is a world with stories waiting to be told. Journalists make an impact when they're outside the newsroom listening to sources and digging for answers. These outside the classroom opportunities will challenge, strengthen, and transform you into a skilled journalist.
Meet Our Professors
Faculty and Staff
I feel like the CCJ gave me a good basis for understanding audio production and sound design. … At Mercer I learned how to tell a story effectively, and I think that's really key when you're doing any sort of project, whether it's audio or written.
Katie Atkinson, Journalism, '19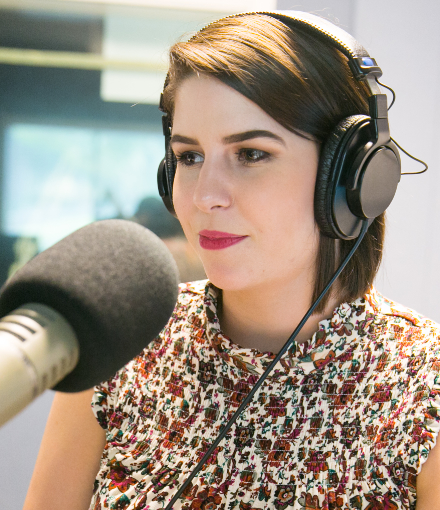 College of Liberal Arts and Sciences
Related Programs