Tanya Ott
Assistant Professor of Practice
Journalist in Residence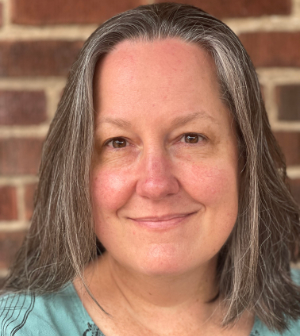 Tanya Ott joined the Center for Collaborative Journalism in 2021, after a 30-year career as a reporter, host, and news manager at public radio stations in Florida, Colorado, Alabama, and Georgia, where she was vice president of news and radio at GPB. Her stories have aired on NPR, Marketplace, The Pulse, BBC, and elsewhere. She's a former fellow with the Association of Health Care Journalists and Rosalynn Carter Mental Health Journalism Program.
Ott has trained journalists in more than 120 public media newsrooms and taught journalism at the University of Florida, the University of Alabama, and University of Alabama at Birmingham.
She hosts a business and technology podcast for Deloitte, was the founding senior producer of Allrecipes' "Homemade" podcast and wrote/sound designed the "Following Harriet" and "Alabama Civil Rights Trail" podcasts.
Education
Doctoral Student, Specialization: Media Processes and Effects, University of Alabama, anticipated Ph.D. May 2023
M.A., Journalism, University of Alabama, 2021
B.S., Public Relations, University of Florida, 1991
Specialty
Journalism, media processes and effects, and media sociology
Professional Interests
Ott's research interests include the spread of misinformation/disinformation on social media, newsroom recruitment and hiring, and issues of diversity, equity, and inclusion.
Other Interests
When she's not teaching or making podcasts, she spends her time walking Amerson River Park, watching British police procedurals, tackling an endless list of home renovation tasks, and planning her next international trip.
Recent Publications
Lee, J., Kanthawala, S., Deavours, D., & Ott, T. (2020). Emotions, Misinformation, and Correction Tweets in El Paso and Dayton Mass Shootings. Online Information Review.
Lee, J., Ott, T., & Deavours, D. (2021). Combating Misinformation in Risk: Emotional Appeal in False Beliefs. In R. Luttrell, L. Xiao, & J. Glass (Eds.), Democracy in the Disinformation Age: Influence and Activism in American Politics. Routledge.
Kanthawala, S., Yuan, S., & Ott-Fulmore, T. (2021). Science Podcasters and Centering Fairness in Content Creation. Paper presented at 2021 Annual AEJMC conference.
Fox, K., Ott, T., Pluskota, J., & Seignious, M. (2021). Best Practices for Teaching Students Audio Production. Panelist at 2021 Annual Broadcast Educators Association conference.
Wang, K., Lee, H.Y., Deavours, D., Ott, T., & Lee, J. (2021). Technology Use and Health Information Seeking Behavior in Rural Vietnam: Does an Annual Health Check up Matter? Poster presentation at 2021 Annual Conference of Society for Social Work and Research, San Francisco, California.
Ott, T. (2020). Nonverbal Communication in Broadcasting: What You're Saying Without Saying It. Topic Talk at 2020 Annual Conference of Broadcast Educators Association.
Ott-Fulmore, T. (2019). Incident or Massacre: Race, Riot and Representation in the Palmetto State. American Journalism Historians Association Southeast Symposium.
Ott, T. (2019). Incident or Massacre: Race, Riot and Representation in the Palmetto State. Discerning Diverse Voices Symposium.
Contact Tanya Ott
---
(478) 301-5772
ott-fulmore_tl@mercer.edu
Office: Center for Collaborative Journalism, Room 123