Dr. Abigail (Abby) P. Dowling
Assistant Professor of History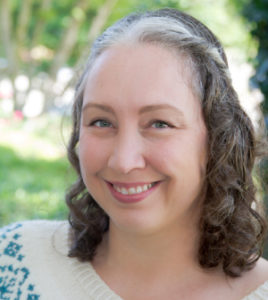 Dr. Abigail (Abby) P. Dowling joined the History Department in 2015. She frequently teaches her favorite course, the Western Histories survey, as well as the pre-modern history sequence (HIS 201, 301, 307, 310). She also enjoys teaching in Great Books, especially GBK 101 and 304. Dr. Dowling loves games and simulations, and you will frequently find games (such as Minecraft), virtual reality, or role-plays in her courses as teaching tools. Dr. Dowling is honored to serve as adviser of the Mercer chapter of Phi Alpha Theta (PAT) History Honors Society, to which high-achieving students are inducted every year. She enjoys helping students host movie nights, chaperon field trips, and plan other events to connect and enrich the academic and social experiences of historically-minded students. She also has the gratifying opportunity to work one-on-one with students to prepare for and present their research at the annual regional PAT conference and biennial national conference.
Education
Ph.D., History and Medieval Studies, University of California, Santa Barbara
M.A., History, University of California, Santa Barbara
B.A., History and French, University of Arizona
Professional interests
Dr. Dowling is an environmental historian, classicist, and medievalist who employs digital methodologies to manage and interpret the use and movement of resources. Her research focuses on natural resource systems: how are the constructed, used, and viewed? She has published studies investigating the socio-cultural and intellectual perspectives on environment and medical theories. Her next project is a spatial analysis of natural resource management in fourteenth-century France using a MySQL database and GIS visualization. By mapping resources movement, it is easier to see how medieval people managed resources as part of a system. She is looking forward to bringing students on to the project and training them on digital methodologies. Dr. Dowling serves as Historian of Mercer's chapter of Phi Beta Kappa, the oldest honors society in the United States, and enjoys initiating Mercer's brightest students into a society whose precept is her own, "the love of learning is the guide of life."
Other interests
Dr. Dowling is a coffee aficionado who owns six different ways to brew coffee … and uses them all! She is owned by three cats and a boisterous dog. She enjoys going on daily walks with aforementioned-rowdy dog and wonderful family. In her free time, you will find her playing board and role-playing games with friends and family. She adores reading for pleasure and makes time for it every day. She is also a fiber artist and knits whenever possible — even while walking around campus!
Recent publications
"The World of Nature," in A Cultural History of Leisure in the Medieval Age (500-1450), vol. 2, ed. Paul Milliman, in A Cultural History of Leisure series, ed. Peter Borsay and Jan Hein Furnée (Bloomsbury Academic). Forthcoming Summer 2021.
With Sarah E. Gardner, A Connecticut Yankee in Abelard's Cloister: A Dialogue between a Medievalist and Civil War Historian, was to be presented at the April 2020 Medieval Colloquium at Sewanee. Canceled due to Coronavirus. Re-accepted for 2021.
"Draining the Swamp": Swamp Reclamation as Public Health under Theodoric the Great (d. 526 CE), presented at the 2020 biennial Phi Alpha Theta conference, January 2-4, 2020, San Antonio, TX.
Co-edited with Richard Keyser, Conservation's Roots: Managing for Sustainability in Premodern Europe, ca. 1000-1700 (Berghahn Books, 2020).
"Introduction," with Richard Keyser, in Conservation's Roots: Managing for Sustainability in Preindustrial Europe, ca. 1000-1700. (Berghahn Books, 2020).
Sustainability and Natural Resource Management in Artois, 1302-1329, in Conservation's Roots: Managing for Sustainability in Preindustrial Europe, ca. 1000-1700. (Berghahn Books 2020).
"Grave Prejudice Against Her Honor": The Gendered Implications of Park Break during the Revolt of the Allies of Artois, 1314-19," presented at the Retirement Conference in honor of Sharon Farmer, Santa Barbara, CA., February 2019. Also presented April 2019 as a workshop as part of the Faculty Writing Colloquium, Mercer University.
"'What is good cultivation?': Views of nature and natural resource management in Ancient Rome," for presentation at "Environmental Humanities," the Chinese University of Hong Kong, Hong Kong, December 6, 2018.
"'Pour la grante richesse': Sustainable Natural Resource Management at the Estate of Hesdin, 1302-29," presented at the "Premodern Ecologies," Annual Conference of the Center for Medieval and Early Modern Studies at the University of Colorado-Boulder, Boulder, CO, October 20-22, 2016.
"Mapping Nature through Use: Natural Resource Exploitation during the Attack and Rebuilding of Saint-Omer, 1302-09," presented at the Medieval Colloquium of the University of the South, Sewanee, TN, April 1-2, 2016.
All of these Things Truly Delight with Utility": Conceptions of Ecology and Natural Resource Management in Pier de' Crescenzi's Liber Ruralium Commodorum." Gardens & Landscapes of Portugal 2 (May 2014): 70-77.
"Ecological Consciousness in Piero de Crescenzi's Liber ruralium commodorum," presented as part of the annual lecture series, theme "An Ecology before Ecology: Respect for the Genius Loci," for CHAIA (Center for the History of Art and Artistic Investigation) at the University of Évora, Portugal, January 31, 2014.
Contact Dr. Abigail Dowling
---
(478) 301-2872
dowling_ap@mercer.edu
Office: Langdale 306