Dr. Anastasia Kerr-German
Assistant Professor of Psychology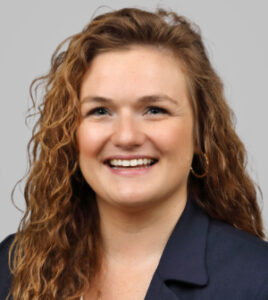 Dr. Anastasia Kerr-German is an assistant professor of psychology at Mercer University. Her specialty is developmental cognitive neuroscience. She teaches research methods, statistics, and neuroscience courses in psychology.
Education
Ph.D. in Experimental Psychology, University of Tennessee
M.A. in Experimental Psychology, University of Tennessee
B.S. in Psychology, Georgia College & State University
Speciality
Human neuroscience, executive functioning, attention, risk for psychopathology
Professional Interests
Dr. Kerr-German's research interests focus on understanding how children's brains process the information in the world around them and what individual factors might lead to different developmental trajectories and long-term outcomes. To explore these questions, she utilizes methods such as functional near-infrared spectroscopy (fNIRS) and eye tracking. Currently, she is exploring the relationship between early developing attentional processing and executive functioning in toddlers, risk for attention-deficit/hyperactivity disorder (ADHD) in toddlers, and the relationship between functional connectivity and ocular-motor control and behavior in children ages 2 to 7 years old.
Other Interests
Dr. Kerr-German enjoys travel, trying new food, coffee, rock climbing, and spending time with her husband and three children.
Recent Publications
Kerr-German, A.N., White, S., Santosa, H., Buss, A.T., & Doucet, G. (2022). "Assessing the Relationship Between Maternal Risk for ADHD and Functional Connectivity in their Biological Toddlers." European Psychiatry.
Kerr-German, A.N., Namuth, A., Santosa, H., Buss, A.T., & White, S. (2022). "To Snack or Not to Snack: What are the Neural Underpinnings of Delayed Inhibitory Control in Toddlers?" Developmental Science.
Kerr-German, A.N., & Buss, A.T. (2020) "Exploring the neural basis of selective and flexible dimensional attention: An fNIRS study." Journal of Cognition and Development.
Buss, A.T., Kerr-German, A.N. (2019). "Dimensional attention as a mechanism of executive function: Integrating flexibility, selectivity, and stability." Cognition, 192.
Seraphin, S.B., Grizzell, J.A., Kerr-German, A.N., Perkins, M.A., Grzanka, P.R., Hardin, E. (2019). "A conceptual framework for non-disposable assignments: Inspiring implementation, innovation, and research." Psychology of Learning & Teaching, 18(1), 84-97.
Contact Dr. Anastasia Kerr-German
---
kerr-german_an@mercer.edu
Office: Willet Science Center, Room 125