Dr. Clara Mengolini
Associate Professor of Foreign Languages and Literatures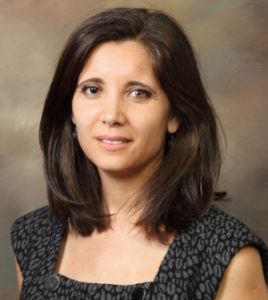 Dr. Clara Mengolini has been teaching at Mercer University since 2015.
Education
Ph.D., Vanderbilt University
M.A., University of South Carolina
B.A., Latin American Literature, University of Buenos Aires
Specialty
Latin American gothic and fantastic literature of the 20th and 21st centuries.
Professional Interests
Dr. Mengolini has published essays in prestigious academic journals, such as Chasqui, Confluencia, and Hispania. In addition, she has co-authored a children's book, What You Can Make with Freedom, with Dr. Antonio Saravia and published articles related to indoctrination in children's literature in Venezuela in the Journal of Private Enterprise. Dr. Mengolini is the co-editor of Vox Populi, the creative magazine of the Department of Foreign Languages and Literatures, and the visionary and director of Mercer's Gothic Festival.
Other Interests
Dr. Mengolini likes to swim, write, and create art and crafts with tree bark during her free time.
Recent Publications
2021 "Socialist Indoctrination in School Textbooks: The Case of Colección Bicentenario in Venezuela." Journal of Private Enterprise, vol.36, 2021, 79-104.
2020 "Conflicto e identidad en la literatura juvenil indigenista: La marca en la tierra de Graciela Rendón." Confluencia, vol. 35, no. 2, 2020, pp. 55-65.
2019 "Clasismo y performance en los cuentos de Silvina Ocampo." Hispania, vol. 102, no. 2, 2019, pp. 191-201.
2018 "La performance como herramienta de rebeldía social en los cuentos de Silvina Ocampo." Chasqui, revista de literatura latinoamericana, vol. 47, no. 2, 2018, pp. 245-256.
2016 "Mafalda: Argentina's favorite girl." Lamar Journal of the Humanities, vol. 41, no. 1, pp. 23-44.
Books
"What Can You Make with Freedom" (Children's Picture Book). Co-authored with Antonio Saravia.
"Cuando vuelva papá" (Biographical chronicles about the death of her father and the 2020 pandemic.)
Contact Dr. Clara Mengolini
---
(478) 301-2217
mengolini_c@mercer.edu
Office: Knight Hall, Room 112