Dr. Douglas E. Thompson
Professor of History
Director of Spencer B. King, Jr. Center for Southern Studies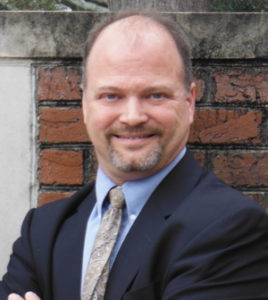 Dr. Douglas E. Thompson arrived at Mercer University in August 2001 as a post-doc teaching fellow in the University Commons. He joined the College of Liberal Arts and Sciences faculty in 2004 in the Department of Interdisciplinary Studies. In 2014 he moved to the History Department where he teaches 20th century and American history courses. He continues to teach in the Great Books sequence, mostly GBK 407. A recipient of the 2009-10 Spencer B. King, Jr. Distinguished Professor Award, Dr. Thompson enjoys the classroom and helping students understand the interpretative moves that historians make while practicing their craft.
Education
Ph.D., Religious Studies, University of Virginia
M.Div., Higher Education, Southern Baptist Theological Seminary
B.A., History, Old Dominion University
Specialty
American South, 20th century American and world history, American religious history
Professional Interests
Dr. Thompson's teaching and research interests include 20th century American history. He has published an account of 1950s Richmond, Virginia, and the ways that religious persons engaged in the civil rights movement or the political response to it known as Massive Resistance. Currently, he is working on two books. One examines Martin Luther King, Jr., and the war in Vietnam and is under contract with University of Georgia Press. The second is a synthetic work for first-year college students that explains American evangelicalism and fundamentalism in the 20th century. He teaches courses in history (HIS 105 "Western Histories," HIS 210 "Twentieth Century World," and HIS 250 "America at War") and in the Southern studies program that include the introductory course (SST 180) and "20th Century South" (HIS/AFR 362). In the Great Books curriculum, he usually teaches "The Age of Ambiguity" (GBK 407). In 2013, he became the editor of the Journal of Southern Religion.
Other Interests
Outside of teaching and writing, Dr. Thompson likes to run and hike. Sometimes you can find him on the various rivers of Middle Georgia kayaking with colleagues.
Recent Publications
"Educating Mastery: Mercer University, Baptist Education, and the Penfield Experiment," Perspectives, Vol. 50 no. 4 (November 2023)
Richmond's Priests and Prophets: Race, Religion, and Social Change in the Civil Rights Era (University of Alabama Press, 2017)
"A Journey of Conscience: Martin Luther King, Jr., the war in Vietnam, and the Struggle for the Soul of America," (under contract, University of Georgia Press)
"Driving Southerners through the Great Depression," in Reassessing the 1930s South, Karen L. Cox and Sarah E. Gardner, eds. (Baton Rouge: Louisiana State University, 2018).
"To Save the Soul of the Nation: Martin Luther King, Jr., Christian America, and the Religious Left," in The Religious Left in Modern America: Doorkeepers of a Radical Faith, Leilah Danielson, Marian Mollin, and Doug Rossinow, eds. (Palgrave Macmillian, 2018).
Contact Dr. Douglas E. Thompson
---
(478) 301-2017
thompson_d@mercer.edu
Office: Langdale Hall, Room 304