Dr. Gordon Johnston
Professor of English and Creative Writing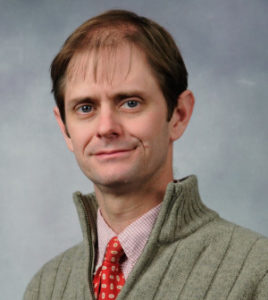 Dr. Gordon Johnston was born in Warner Robins, Georgia, and grew up there and in Dearing, Georgia. He earned a B.A. from Shorter College (1989), an M.A. in British literature and creative writing from the University of Georgia (1991), and a Ph.D. in American literature (Modern and Contemporary Fiction and Poetry and Creative Writing) from the University of Georgia (1995). He came to Mercer in 1996.
Dr. Johnston is a poet, essayist, and fiction writer who teaches literature. Interests include modern and contemporary fiction (especially the short story) and poetry, linguistics, wilderness writing, creative nonfiction, contemporary art, anagama pottery, Native American mythology, prehistory, and culture, canoeing, hiking, birds, and World War II. Some of his favorite writers: Thoreau, Annie Dillard, Barry Lopez, Thomas Merton, Wendell Berry, Alice Munro, Tolkien, Tim O'Brien, Flannery O'Connor, Tobias Wolff, Charles Baxter, Pattiann Rogers, Stephen Dunn, William Stafford, Rodney Jones, Judson Mitcham, Andre Dubus, Walker Percy, J.M. Coetzee, Cormac McCarthy, Gwendolyn Brooks, W.S. Merwin, Louise Erdrich, Elizabeth Bishop, Seamus Heaney, Richard Hugo, Kazuo Ishiguro, Dostoevsky, Rumi, Charles Frazier, Gerald Stern, Margaret Gibson, W.H. Auden, Yeats, Scott Russell Sanders, Ralph Ellison, William Ong, Albert Camus, John Berger, and Thich Nhat Hahn.
Dr. Johnston's regularly offered courses are Creative Writing, Contemporary Fiction, Contemporary Poetry, Wilderness and the American Mind, the Study of Fiction, the Study of Poetry, Senior Capstone: Art and Society, and First Year Seminar. He has recently directed studies and honors theses on individual writers: novelist Tim O'Brien, poets Derek Walcott and Ted Hughes, playwright Samuel Beckett, and composer John Cage. Furthermore, he has directed honors portfolios in poetry and fiction writing.
Contact Dr. Gordon Johnson
---