Dr. John Thomas (Tom) Scott
Interim Dean of College of Liberal Arts and Sciences
Professor of History
Chair of History Department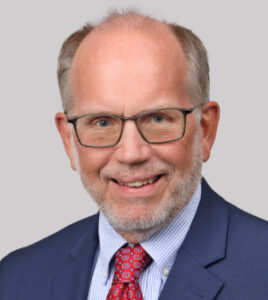 Dr. John Thomas (Tom) Scott has been a member of the Department of History since 1991. He chose to come to Mercer for many reasons and has stayed for many more. Dr. Scott appreciates the History Department for the rigor with which it approaches studying the past, for the humane care that its faculty members strive to give to all students, and for the emphasis it puts on undergraduate research in the department. The department doesn't just want students to know about the past — it wants them to learn how to create and articulate their own understandings of the past so that they can make appropriate choices for themselves and their society in the present and the future. History majors have won the University Library's award for research for the last few years and have regularly won awards at the regional history conferences to which we take our majors. The department expects a great deal out of its students, but it gives a great deal back to its students in time, in expertise, in relationships, and in research.
Education
Ph.D., History, The College of William and Mary
M.A., History, University of Georgia
B.A., History, Vanderbilt University
University of Leeds, non-degree year abroad
Specialty
Colonial America; U.S. religious and intellectual history
Professional Interests
Dr. Scott's primary field of research has been 18th and early 19th century North Atlantic history — most of it British colonial and American. Within that broad field he has focused primarily on intellectual and relational history — what people believed, who they shared it with, and how both ideas and personal relationships shaped the worlds in which they lived; today it would be called networking. His earliest research focused on a Presbyterian minister at the turn of the 19th century who drew most of his ideas from colonial and transatlantic sources. Recent research has focused on Georgia in the 18th century and again has concentrated primarily on religious figures. The research also reveals the lives of many "regular" humans who struggled to make sense of the world around them and to find their place in that world, the very tasks that humans of every age, including the current one, embark upon daily.
Other Interests
Dr. Scott has an abiding interest in classic American films (1930s to 1950s especially). He regularly uses films in class to help students think about a particular topic, and he teaches HIS 245 — American Film as Art and History. That course focuses on using films as historical documents to understand the past and concentrates on the period between 1930 and 1990. The 1946 film "The Best Years of Our Lives" and the 1956 film "The Searchers," are two of his favorite films to teach.
Recent Publications
"On God's Side: The Problem of Submission in American Revolutionary Rhetoric." In Fides et Historia 34 (Winter/Spring 2002): 111-122.
"The Final Effort to Fulfill George Whitefield's Bequest: The Bethesda Mission of 1790-1792." The Georgia Historical Quarterly 89 (Winter 2005): 433-461.
" 'Next to Nothing': Benjamin Ingham's Mission to Georgia", The Georgia Historical Quarterly 92 (Fall 2008): 287-320.
" 'Too Good Not to Tell Again': Nancy Hart". In Georgia Women: Their Lives and Times, volume 1. Edited by Ann Short Chirart and Betty Wood. Athens, Ga.: University of Georgia Press, 2009.
"Religion in Georgia," Introduction to Historic Rural Churches of Georgia, Sonny Seals and George S. Hart, eds. Athens: The University of Georgia Press, 2016.
"Tho' you cannot stop the road, it is yet in your power to mark the way": Christian Colonization on the American Frontier in the 1780s — The Countess of Huntingdon's Plan and the American Response", Fides et Historia, 49, no. 1 (Winter/Spring 2017): 24-46.
The Wesleys and the Anglican Mission to Georgia, 1735-1738: "So Glorious an Undertaking." Bethlehem, PA: Lehigh University Press, 2020.
Contact Dr. John Thomas Scott
---
(478) 301-2857
scott_jt@mercer.edu
Office: Langdale Hall 309