Dr. Katherine Roseau
Assistant Professor of French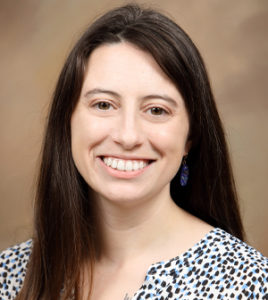 Dr. Katherine Roseau joined the faculty at Mercer University in 2019. She teaches all levels of French, including courses on Nazi-occupied France, transnational francophone literature, and life writing. In the classroom, Dr. Roseau emphasizes interaction, using one's mistakes to improve, and exposure to diverse francophone accents and perspectives. She also teaches Integrative Studies 201, which includes service learning.
A former fellow of the Fondation pour la Mémoire de la Shoah, Dr. Roseau's scholarship continues to address the roles of life writing genres in shaping the experiences of Jews in France during the Holocaust.
Education
Ph.D., French Literature, Purdue University
M.A., French Civilization, Society, and Culture, Middlebury College
B.A., French, Anderson University
Specialty
Dr. Roseau uses an interdisciplinary framework of theories in memory, genre, place, and cognitive studies to investigate the functions of life writing in war in order to understand how humans cope with acute threats to identity and stability.
Professional Interests
Dr. Roseau's research interests include:
Life writing (diary, autobiography, correspondence, autofiction)
20th century French literature, especially Nazi occupation of Paris
Holocaust studies
Digital humanities, especially mapping
Cognitive approaches to literature
Memory studies
Her teaching interests include:
French language, all levels
Study abroad
Nazi-occupied France and the Holocaust
20th and 21st century literature, including transnational literature
Life writing/autobiography
War writing, including experiences of refugees and veterans (taught in French and English)
Recent Publications
Roseau, Katherine. "Separated Families and Epistolary Assistance: The Mutual Aid That Maintained Correspondence Between Jewish Internees and Their Loved Ones During the Second World War in France." French Historical Studies 44.s2 (2021) 325-353. https://doi.org/10.1215/00161071-8806454
Roseau, Katherine. "The Diary as Witness to the Holocaust: Materiality, Immediacy, and Mediated Memory." Holocaust Studies: A Journal of Culture and History 25.4 (2019) 492-513. DOI: 10.1080/17504902.2018.1509253
Roseau, Katherine. "A Diary Without the I: Embodiment and Self-Construction Through the Other in Felix Hartlaub's World War II Paris Writings." Textual Practice 34:7 (2020) 1123-1139. DOI: 10.1080/0950236X.2018.1533574
Contact Dr. Katherine Roseau
---
(478) 301-5479
roseau_ka@mercer.edu
Office: Knight Hall, Room 202B