Dr. Margaret K. Meadows
Assistant Professor of Chemistry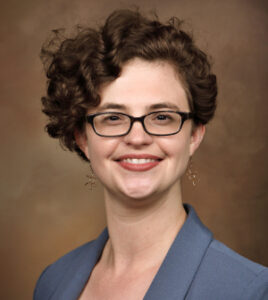 Dr. Margaret K. Meadows grew up in Charleston, South Carolina, and attended Furman University. She then headed west to the University of Texas at Austin. Dr. Meadows came to Mercer University in 2018 from Northwestern University where she was a postdoctoral fellow in the lab of Sir Fraser Stoddart.
Education
Ph.D., Chemistry, University of Texas at Austin
B.S., Chemistry, Furman University
Specialty
Organic chemistry with emphasis on supramolecular and physical organic chemistry
Professional Interests
Dr. Meadows's lab focuses on the detection of pollutants and harmful compounds in water. The two main projects in the lab currently are the detection of endocrine disrupting chemicals (like bisphenol A, or BPA) and the binding of urushiol (the toxin in poison ivy). Students who work with Dr. Meadows can expect daily lab work to be a mixture of organic synthesis and spectroscopic analysis.
Contact Dr. Margaret Meadows
---
(478) 301-5309
meadows_mk@mercer.edu
Office: Godsey Science Center, Room 428