Dr. Natalie Bourdon
Associate Professor of Anthropology and Women's and Gender Studies
Director of Applied Social Justice Certificate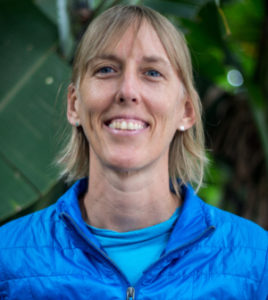 Dr. Bourdon has been teaching in the Women's and Gender Studies and Anthropology departments at Mercer University since 2009. She received her Ph.D. from Michigan State University in Anthropology with a specialization in Gender, Justice, and Environmental Change. Her research interests include women's rights advocacy and legal pluralism in Tanzania, exploring the ways in which Tanzanian lawyers and development practitioners reformulate and utilize international human rights laws to advocate for women's land, inheritance, and sexual rights. Recently, Dr. Bourdon has been engaged in a multi-sited research project in Santa Fe, New Mexico, and Nairobi, Kenya. This research examines the ways in which race, nationality, and gender intersect with yoga practitioners' experiences of empowerment and ideas of selfhood.
Education
Ph.D., Anthropology, Certificate in Gender, Justice, and Environmental Change, Michigan State University
B.A., Anthropology and African Studies, Michigan State Univrsity
Specialty
East Africa, legal anthropology, human rights, sensory anthropology, embodiment studies.
Professional Interests
Activist anthropology, social justice, public anthropology. Dr. Bourdon teaches the following courses:
Cultural Anthropology
Activism and Anthropology
Engaging Social Justice
Feminist Theories and Theories of Gender
WGS Qualitative Research Methods
Anthropology and Human Rights
Gay Rights, Human Rights and Gender Benders: Africa Past and Present
Introduction to General Anthropology
Other Interests
I like to spend my summers in Tanzania and the Pacific Northwest. I enjoy high alpine mountaineering, backpacking, and all things fungi. I'm often running, playing tennis or on my yoga mat, and I love being in my red reading chair, digging into some sci-fi, fiction, and books about ecology.
Recent Publications
Bourdon, N. J. 2017 "International Actors and Traditional Justice in Sub-Saharan Africa: Policies and Interventions in Transitional Justice and Justice Sector Aid eds. by Eva Brems, Giselle Corradi, and Martien Schotsmans (book review)." African Conflict & Peacebuilding Review, vol. 7 no. 2, 2017, pp. 115-119.
Bourdon, Natalie J. 2016 "Whose Development?: Service Learning Abroad and Discourses on "Doing Good", in Cultural Anthropology: Contemporary, Public and Critical Readings, Edited by Keri Brondo. Oxford University Press.
Bourdon, Natalie J. 2013 "Coercive Harmony?: Realizing Women's Rights Through Alternative Dispute Resolution in Dar es Salaam's Legal Aid Clinics" pp. 195-217 Worlds of Human Rights: Ambiguities of Rights Claiming in Africa. Edited by Anne Hellum, Bill Derman and Kristin Sandvik. Brill Publishers.
Bourdon, Natalie J. 2012 "Opening the Pandora's Box: Human Rights, Customary Law and "The Communal Liberal Self" in edited by Rachel Sieder and John-Andrew McNeish. Routledge.
Contact Dr. Natalie Bourdon
---
(478) 301-2756
bourdon_nj@mercer.edu
Office: Groover Hall, Room 208