Dr. Shan Ran
Assistant Professor of Psychology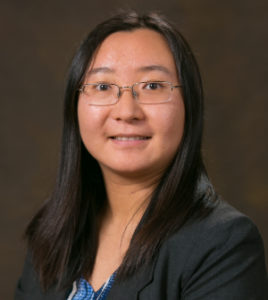 Dr. Shan Ran (Ph.D., Wayne State University, 2017) joined Mercer University in 2017 as an Assistant Professor of Psychology. Her specialty area is industrial-organizational (I-O) psychology. She teaches Introduction to Psychology, Research Methods and Statistics, and Industrial and Organizational Psychology. Her research interests focus on the broad question of diverse worker success, such as boosters (i.e., leadership capacity, training) and barriers (i.e., bias and discrimination) to individual success along demographic (e.g., gender, age, etc.) and cultural characteristics in the workplace.
Education
Ph.D. Industrial-Organizational (I-O) psychology (minor in quantitative methods), Wayne State University
M.A., Industrial-Organizational (I-O) psychology, University of Detroit Mercy
B.S., Psychology, Zhejiang University
Specialty
Industrial-organizational psychology
Professional Interests
How can individuals from diverse backgrounds succeed in the workplace? As a worker, an employee can be successful by being a valuable individual contributor, effective leader, and/or suitable candidate for advancement. For individuals, success can involve fulfilling personal goals and maintaining a high level of well-being through work. As the contemporary workplace is increasingly diverse in terms of demographic and cultural factors, individuals from diverse backgrounds tend to undergo different experiences when striving for occupational and personal success. Diversity encompasses a wide range of characteristics, including gender, age, culture, and many other observable and unobservable factors. Dr. Ran's research program seeks to address why such differential experiences occur, how various factors facilitate or hinder the success of diverse workers, and what can be done to promote the success of diverse employees.
Recent Publications
Ran, S. & Huang, J. L. (in press). Enhancing adaptive transfer of cross-cultural training: Lessons learned from the broader training literature. Human Resource Management Review. Advance online publication. doi: 10.1016/j.hrmr.2017.08.004
Huang, J. L., Ran. S., & Blume, B. D. (in press). Understanding training transfer from the adaptive performance perspective. To be published in K. G. Brown (Ed.) The Cambridge handbook of workplace training and employee development. New York, NY: Cambridge University Press.
Odeh, A., Bruce, T. J., Krenn, D. R., & Ran, S. (2017). A broader perspective on subtle discrimination interventions. Industrial and Organizational Psychology: Perspectives on Science and Practice, 10, 118−123. doi: 10.1017/iop.2016.112
Huang, J. L., & Ran. S. (2016). Facilitating survey response. In S. G. Rogelberg (Ed.) Encyclopedia of industrial and organizational psychology (2nd ed., Vol.2, pp. 477−479). Thousand Oaks, CA: SAGE Publications Inc. doi: 10.4135/9781483386874.n163
Marchiondo, L. A., Gonzales, E., & Ran, S. (2016). Development and validation of a workplace age discrimination scale. Journal of Business and Psychology, 31, 493−513. doi: 10.1007/s10869-015-9425-6
Marchiondo, L., Ran, S., & Cortina, L. (2015). Modern discrimination. In A. J. Colella & E. B. King (Eds.) The Oxford handbook of workplace discrimination. New York: Oxford University Press. doi: 10.1093/oxfordhb/9780199363643.013.15
Ran, S., Liu, M., Marchiondo, L. A., & Huang, J. L. (2015). Difference in response effort across sample types: Perception or reality? Industrial and Organizational Psychology: Perspectives on Science and Practice, 8, 202−208. doi: 10.1017/iop.2015.26
Contact Dr. Shan Ran
---
(478) 301-2855
ran_s@mercer.edu
Office: Willet Science Center 129