Dr. Wallace L. Daniel
Distinguished University Professor of History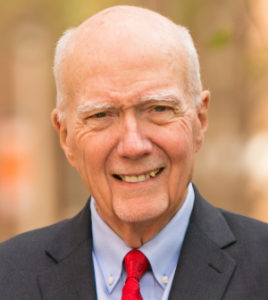 Dr. Wallace L. Daniel came to Mercer in 2008, having taught and served as dean of the College of Arts and Sciences at Baylor University for many years. First as provost, then as a member of the History Department at Mercer, Dr. Daniel has found Mercer to be a place focused on combining strong teaching with research and especially with engaging students in the process of discovery and the development of communication skills. As an historian of Russia and the former Soviet Union, Dr. Daniel is a passionate advocate for international education, believing that such an experience broadens one's outlook on the world, as well as deepens understanding of one's own country. He views the study of history as a means of encouraging empathy towards others, of teaching individuals to see through different eyes, and of discovering connections between diverse cultures, attributes essential to strong leadership in a complex and rapidly changing society.
Education
Ph.D. in History, University of North Carolina
B.A. in Economics, with Honors, University of North Carolina
Slavic Languages Institute, Indiana University (2 times)
Specialty
Russian history (early modern and contemporary), Russian religious and intellectual history
Professional Interests
At different points in his academic career, Dr. Daniel has had two fields of research. Earlier, his main scholarly interests concerned the era of Catherine the Great and the Russian merchants. More recently, he has shifted his focus to contemporary Russia, centering his research and writing on civil society, the intelligentsia, and the Russian Orthodox Church and its struggles to regain its cultural heritage and identity. He has written a biography of Father Aleksandr Men, arguably Russia's most prominent Orthodox priest in the second half of the 20th century, and he has completed a translation of the memoirs of two Russian women in the catacombs, a volume scheduled for publication in early 2021. His teaching has converged around related topics, including Revolution and Religion: A Comparative View, Church and State in the Modern World, and History of the Soviet Union and Post-Soviet Russia.
Other Interests
Dr. Daniel's additional interests include playing with his grandchildren, gardening (growing tomatoes), watching basketball, walking and working out, reading Russian literature (classical and contemporary), reading biography and non-fiction, and travel.
Recent Publications
The Catacombs of Russia: Two Memoirs by Women in the Underground Orthodox Church. Edited and translated, with an introduction and notes by Wallace L. Daniel. Ithaca, NY and DeKalb, IL: Cornell University Press/Northern Illinois University Press, (forthcoming in 2021).
"The Sacred and the Secular: The Russian Orthodox Church and the Intelligentsia, Past and Present." In Journal of Church and State, (forthcoming in 2020).
" 'I am a Fighter by Nature': Gleb Yakunin and the Soviet Establishment." In The Dangerous God: Christianity and the Soviet Experiment. Edited by Dominic Erdozain, 74-96. DeKalb, IL: Northern Illinois University Press, 2017.
Review Essay: "Contemporary Religious Life in Russia's Provinces: A New Source." In Journal of Ecclesiastical History 68, no. 4 (October 2017): 807-14.
Russia's Uncommon Prophet: The Life and Times of Father Aleksandr Men. DeKalb, IL: Northern Illinois University Press, 2016.
The Orthodox Church and Civil Society in Russia. Eugenia and Hugh M. Stewart '26 Series on Eastern Europe. College Station, TX: Texas A&M University Press, 2006.
Contact Dr. Wallace Daniel
---
(478) 301-2860
daniel_wl@mercer.edu
Office: Langdale 305