Dr. Yu (Rachel) Guo
Assistant Professor of Sociology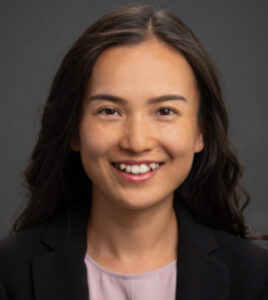 Dr. Yu (Rachel) Guo grew up and did her undergraduate studies in mainland China. She got her Ph.D. in sociology from the University of Maryland at College Park in 2018. After graduation, she taught at Albright College in Pennsylvania for three years. She joined Mercer University as an assistant professor of sociology in fall 2022.
Education
Ph.D., Sociology, University of Maryland at College Park
M.A., Sociology, University of Maryland at College Park
B.A., Fudan University, Shanghai, China
Specialty
Social inequality; intersectionality of race, gender, and class; and globalization.
Professional Interests
Dr. Guo teaches all fundamental courses in sociology (Introductory Sociology, Social Science Research Methods, and Theory) as well as courses in her specialty areas (e.g., Globalization, Social Class, Gender and Sexuality). In her classes, Dr. Guo engages in student-centered practices and guides student learning through various activities. Students often describe Dr. Guo as a professor who is organized, knowledgeable, passionate, and approachable.
Dr. Guo's research and scholarship focus on explaining how social inequality works, especially by engaging social theories of political economy and class inequality on the one hand and the interdisciplinary scholarship of intersectionality on the other hand. For her dissertation, Dr. Guo spent a year in factories in China doing fieldwork and examining how rural migrant workers in China understood their lives in the context of China's global economic connections.
Recent Publications
Collins, Patricia Hill, and Rachel Yu Guo. 2021. "Reflections on Class and Social Inequality: Sociology and Intersectionality in Dialogue." In Handbook of Classical Sociological Theory, edited by Seth Abrutyn and Omar Lizardo. New York: Springer.
Guo, Rachel Yu. 2019. "More Than Just Breadwinners: How Chinese Male Migrant Workers' Family Relationships Shape Their Factory Labor Process." Community, Work & Family. DOI: 10.1080/13668803.2019.1700919
Guo, Yu. 2019. "Sexual Double Standards in White and Asian Americans: Ethnicity, Gender, and Culture." Sexuality & Culture 23(1): 57-95.
Lucas, Jeffrey W., Carmi Schooler, Delei Zhao, Marek Posard, Hsiang-Yuan Ho, and Yu Guo. 2017. "Effects of Social Context on Holistic versus Analytic Orientation: A Cross-Cultural Experiment." International Journal of Sociology 47(4): 296-316.
Chen, Feinain., Hui Liu, Kriti Vikram, and Yu Guo. 2015. "For Better or for Worse: The Health Implications of Marriage Separation by Migration in Rural China." Demography 52(4):1321-43.
Contact Dr. Yu (Rachel) Guo
---
(478) 301-2422
guo_y@mercer.edu
Office: Langdale Hall, Room 219