Dr. Sahar Hasim
Assistant Professor of Biology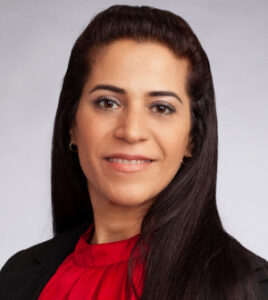 Dr. Sahar Hasim received her Ph.D. in microbiology and molecular biology and her B.S. in biology, both from the University of Nebraska-Lincoln. Before joining Mercer University, she was a lecturer in biology at Columbus State University. She also has held postdoctoral research associate positions at Auburn University and the University of Tennessee-Knoxville/Oak Ridge National Laboratory. She joined Mercer's Biology Department in 2020.
Education
Ph.D., Microbiology and Molecular Biology, University of Nebraska-Lincoln
B.S., Biological Sciences, University of Nebraska-Lincoln
Specialty
Microbiology and Immunology
Professional Interests
Host-pathogen interaction
Biophysics properties of C. albicans cell wall
Switching and pathogenesis of C. albicans
C. auris biofilm formation
Recent Publications
 K. S. Bonifer, X. Wen, S. Hasim, E. K. Phillips, E. R. Gann, J. M. DeBruyn and T. B. Reynolds. (2019) An environmental isolate of Bacillus pumilus alters degradation of polylactic acid films in response to changing nutrient conditions. Frontiers in Microbiology. Under review.
S. Vijaya-Kumar, G. Taylor, S. Hasim, D. P. Allison, S. T. Retterer, C. P. Collier, A. N. Webb, M. J. Doktycz, J. Morrell-Falvey. (2019) Deletion of carotenoids from membranes of Pantoea sp. YR343 results in altered lipid composition and changes in membrane biophysical properties. Biochim Biophys Acta Biomembr. doi: 10.1016/j.bbamem.2019.05.009.
S. Hasim and J. J. Coleman. (2019) Targeting the fungal cell wall: current therapies and implications for development of alternative antifungal agents. Future Medicinal Chemistry. doi: 10.4155/fmc-2018-0465.
S.E. Davis, R.N. Tams, N. Solis, A.S. Wagner, T. Chen, J.W. Jackson, S. Hasim, A.E. Montedonico, J. Dinsmore, T.E. Sparer, S.G. Filler, T.B. Reynolds. (2018) Candida albicans cannot acquire sufficient ethanolamine from the host to support virulence in the absence of de novo phosphatidylethanolamine synthesis. Infect Immun. doi: 10.1128/IAI.00815-17.
S. Hasim, D. Allison, B. Mendez, A. Farmer, D.A. Pelletier, S. Retterer, S. Campagna, T.B. Reynolds, and M.J. Doktycz. (2018) Elucidating duramycin's bacterial selectivity and mode of action on the bacterial cell envelope. Frontiers in Microbiology.9 (219). doi.org/10.3389/fmicb.2018.00219.
S. Hasim, E.N. Vaughn, D. Donohoe, D.M. Gordon, S. Pfiffner, and T.B. Reynolds. (2017) Influence of phosphatidylserine and phosphatidylethanolamine on farnesol tolerance in Candida albicans. Yeast. doi: 10.1002/yea.3297.
J. A. Aufrecht, J. M. Ryan, S. Hasim, D. P. Allison, A. Nebenführ, M. J. Doktycz, S. T. Retterer. (2017) Imaging the Root Hair Morphology of Arabidopsis Seedlings in a Two layer Microfluidic Platform. J. Vis. Exp. (126), e55971, doi:10.3791/55971.
N. Ahmad Hussin, R.U. Pathirana, S. Hasim, S. Tati, J. A. Scheib-Owens, and K. W. Nickerson. (2016) Biotin Auxotrophy and Biotin Enhanced Germ Tube Formation in Candida albicans. Microorganisms. doi: 10.3390/microorganisms4030037.
S. Hasim, D. P. Allison, S. T. R., Alex Hopke, R. T. Wheeler, M. J. Doktycz, and T. B. Reynolds. (2016) ß-glucan unmasking in some Candida albicans mutants correlates with increases in cell wall surface roughness and decreases in cell wall elasticity. Infect Immun. doi: 10.1128/IAI.00601-16. Article was spotlighted in this issue.
For access to my self-archived articles, please see Dr. Hasim's Research Gate page.
Contact Dr. Sahar Hasim
---
(478) 301-2048
hasim_s@mercer.edu
Godsey Science Center 324