Dr. Sahar Hasim
Assistant Professor of Biology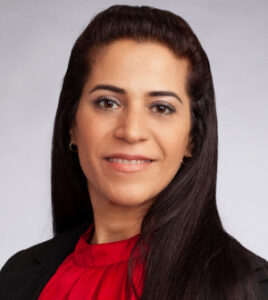 Dr. Sahar Hasim received her Ph.D. in microbiology and molecular biology and her B.S. in biology, both from the University of Nebraska-Lincoln. Before joining Mercer University, she was a lecturer in biology at Columbus State University. She also has held postdoctoral research associate positions at Auburn University and the University of Tennessee-Knoxville/Oak Ridge National Laboratory. She joined Mercer's Biology Department in 2020.
Education
Ph.D., Microbiology and Molecular Biology, University of Nebraska-Lincoln
B.S., Biological Sciences, University of Nebraska-Lincoln
Specialty
Microbiology and Immunology
Professional Interests
Exploring the growth behavior of fungal pathogen Candida albicans and biofilm formation on various nanomaterials coatings
Investigating 2D materials-based biosensor for fungal detection
Inhabiting the cell to cell communication, future antifungal agents to combat Candida auris resistance strains
Studying the potential ß-(1,3)-glucan unmasking genes for drug targeting in Candida albicans to promote detection by innate immune cells.
Recent Publications
Jheel Patel, Victoria Gomez , Lauryn McGahee, Benjamin Parisi, Dorina Mihut, and Sahar Hasim. (2022) Mechanical Engineering – Biology Collaborative Independent Study for Students for Research on Controlling the Biofilm Formation, American Society for Engineering Education, Southeastern Section (ASEE).
Fathi-Hafshejani, Parvin ; Azam, Nurul; Wang, Lu; Kuroda, Marcelo; Hamilton, Michael; Hasim, Sahar, Mahjouri-Samani, Masoud. (2021) 2D-Material Based Field-Effect Transistor Biosensor for Detecting COVID-19 Virus (SARS-CoV-2). ACS Nano.
K. S. Bonifer, X. Wen, S. Hasim, E. K. Phillips, E. R. Gann, J. M. DeBruyn and T. B. Reynolds. (2019) An environmental isolate of Bacillus pumilus alters degradation of polylactic acid films in response to changing nutrient conditions. Frontiers in Microbiology.
S. Vijaya-Kumar, G. Taylor, S. Hasim, D. P. Allison, S. T. Retterer, C. P. Collier, A. N. Webb, M. J. Doktycz, J. Morrell-Falvey. (2019) Deletion of carotenoids from membranes of Pantoea sp. YR343 results in altered lipid composition and changes in membrane biophysical properties. Biochim Biophys Acta Biomembr.
S. Hasim and J. J. Coleman. (2019) Targeting the fungal cell wall: current therapies and implications for development of alternative antifungal agents. Future Medicinal Chemistry.
S.E. Davis, R.N. Tams, N. Solis, A.S. Wagner, T. Chen, J.W. Jackson, S. Hasim, A.E. Montedonico, J. Dinsmore, T.E. Sparer, S.G. Filler, T.B. Reynolds. (2018) Candida albicans cannot acquire sufficient ethanolamine from the host to support virulence in the absence of de novo phosphatidylethanolamine synthesis. Infect Immun.
S. Hasim, D. Allison, B. Mendez, A. Farmer, D.A. Pelletier, S. Retterer, S. Campagna, T.B. Reynolds, and M.J. Doktycz. (2018) Elucidating duramycin's bacterial selectivity and mode of action on the bacterial cell envelope. Frontiers in Microbiology.9 (219).
For access to Dr. Hasim's self-archived articles, please see her Research Gate page.
Contact Dr. Sahar Hasim
---
(478) 301-2048
hasim_s@mercer.edu
Godsey Science Center, Room 324