Dr. Shehnaz Haqqani
Assistant Professor of Religion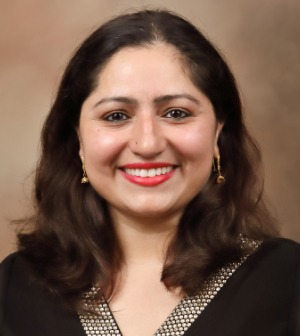 Dr. Shehnaz Haqqani has been teaching at Mercer University since fall 2018 and specializes in Islam, with a focus on gender and sexuality. She earned her Ph.D. in Islamic Studies at the University of Texas at Austin and her bachelor's at Emory University. In AY 2017-2018, she was the Dissertation Diversity Fellow at Ithaca College in Women's and Gender Studies, where she taught courses on Islamic Feminism and Gender and Sexuality in the Middle East. Prior to that, she taught at St. Edward's University in Austin, Texas, while working on her dissertation.
Education
Ph.D., University of Texas at Austin, Islamic Studies
M.A., Middle Eastern Languages and Cultures, University of Texas at Austin
B.A., Middle Eastern and South Asian Studies, Emory University
Specialty
Religion, Islam and gender
Professional Interests
Some of the courses Dr. Haqqani has taught at Mercer are Beginning with Abraham (REL 170), Why Religion Matters (REL 110), Eastern and Western Religions (REL 356 & 357), Islamophobia (Special Topics), and Islam and Gender (INT 301). She looks forward to offering more courses on Islam.
Dr. Haqqani's academic and research interests include religious authority, religion and feminism, and change and tradition. Her dissertation, titled "Islamic Tradition, Change, and Feminism: The Gendered Non-Negotiable," explored these themes, focusing on Muslims in America and their attitudes toward gender and social change. Currently, she is working on a book on Muslim women's marriage to non-Muslims, surveying historical and contemporary discourses on the issue.
She is also a podcast host with the New Books Network, for the New Books in Islamic Studies channel, interviewing authors of recent books in Islamic studies.
Recent Publications
2019. "The Pashtun Woman Blogger: Marginality, Empowerment, and the Struggle for Recognition." In Political Muslims: Understanding Youth Resistance in Global Context, eds. Sadek Hamid and Tahir Abbas. Syracuse University Press.
2019. "Teaching Islam and Gender." In Teaching Islam in the Age of ISIS and Islamophobia. Indian University Press.
2015. "Islam" (co-authored with Laury Silvers, El-Farouk Khaki, and Troy Jackson). In Struggling in Good Faith: LGBTQI Inclusion from 13 American Religious Perspectives, eds. Mychal Copeland and D'Vorah Rose. SkyLight Paths Publishing.
Contact Dr. Shehnaz Haqqani
---
(478) 301-2768
haqqani_s@mercer.edu
Office: Knight Hall 311